Introduction
Over five years ago, I had the opportunity to meet with Pam and Rob Cooper to show them around when they visited Dartmouth to find some footage about the Akin ancestors. At the time, the Akin House was in serious disrepair with restoration a work-in-progress. We visited the Akin Cemetery, parts of Elm Street and the shores of Padanaram Harbor which was known in the "days of Akin" as Akins Landing. We paid our respects to the Apponagansett Meeting House and its cemetery on Russell's Mills Road. The Akins were known to be Quakers and there is a John Akin buried there.
[image below right from the Library of Congress]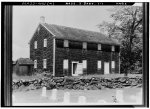 Soon after, I met Maureen Taylor.
The Last Muster Project and A Revolutionary Trio have been long awaited.
The rest, as they say, is history!