February 15, 2019
"A Revolutionary Trio", the Last Muster Project Come to Life
Introduction
Over five years ago, I had the opportunity to meet with Pam and Rob Cooper to show them around when they visited Dartmouth to find some footage about the Akin ancestors. At the time, the Akin House was in serious disrepair with restoration a work-in-progress. We visited the Akin Cemetery, parts of Elm Street and the shores of Padanaram Harbor which was known in the "days of Akin" as Akins Landing. We paid our respects to the Apponagansett Meeting House and its cemetery on Russell's Mills Road. The Akins were known to be Quakers and there is a John Akin buried there.
[image below right from the Library of Congress]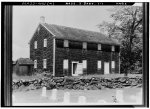 Soon after, I met Maureen Taylor.
The Last Muster Project and A Revolutionary Trio have been long awaited.
The rest, as they say, is history!
A Revolutionary Trio produced by Verissima Productions
in collaboration with Maureen Taylor.
Visit Verissima Productions website here.
On May 5, 2019, at the Dartmouth Grange, 1133 Russell's Mills Village in Dartmouth, (please refer to The Last Muster Project Blog), Maureen Taylor will not only discuss the research that produced her two volumes of The Last Muster (with a third a work in progress), she will bring to life the stories of three heroes of the Revolutionary War featured in The Last Muster Project. 
These are rare, special, and invaluable. Fortunately for all of us, you can view these  now or at your convenience.
A great deal of outreach, research, travel, and interviews went into the development and production of these short films. These speak volumes about their lives which otherwise would have been lost to history but for the work of Maureen Taylor in collaboration with Pam and Rob Cooper of Verissima Productions.
The Akin Family ancestors are near and dear to the DHPT as this family has served to bring our 1762 Akin House to life.  From the time they travelled from Aberdeen, Scotland in the mid-1600s, to reach Newport/Portsmouth, RI, and to settle Dartmouth, MA, the Akins contributed immeasurably to the founding of this country.  
Their travels don't end here in Dartmouth.
Molly Ferris Akin of Pawling, New York is featured in A Revolutionary Trio.
Try to connect the dots among the Last Muster Project, A Revolutionary Trio, and the Akin ancestors
try to identify some common themes. 
How does Molly Ferris Akin fit into the Akin ancestry? How does she fit into the Revolution? 
Some of the Akins relocated to Dutchess County, Quaker Hill, Pawling, New York.
Let's look at some genealogy from Ancestry.Com, provided by Akin descendant, Robert "Larry" Akin to learn more about Molly and her relationship to the Akin family.
We should start at the beginning of the Akin family which goes back to at least 17th century Scotland. Get ready for some head spinning when you read that there were many David Akins and just as many John Akins. The Akin family married a lot and had many, many children. Births, marriages and deaths were a way of life and these people just carried on. There were just as many daughters as sons but the focus here is on the male line.
Let's start with David Akin from Scotland.
David Akin was born about 1640 in Aberdeen, Scotland. He died between 1669 and 1671 in Portsmouth/Newport, RI.
David's son John Akin was born in Portsmouth, RI about 1663. He died in Dartmouth in 1746.
One of his sons, David Akin, was born in Dartmouth in 1689. He relocated to Quaker Hill, Dutchess County, New York about 1776 and died in 1779 in Quaker Hill.
Son John Akin (1719-1779) and David Akin's half-brother Elihu Akin (1720-1794 were born in Dartmouth at much about the same time.  
[Elihu Akin lived all of his life in Dartmouth and ended up spending his final days at our Elihu Akin house. This website features predominantly Elihu's branch of the Akin Family.]
Getting back to New York. Both father David Akin and son John Akin died in 1779 in Quaker Hill.
It is with John Akin's son, also named John Akin (1753-1810), when we see the Akin family branching out of Dartmouth permanently.
This John Akin marries Mary Molly Ferris (1759-1851). She lives to a ripe old age of 92, surviving her husband John by some 41 years.