Anne W. "Pete" Baker and Peggi Medeiros at WHALE sponsored clean-up event in 2005
How We Came to Save This House
The 1762 Elihu Akin House, located at 762 Dartmouth Street at the intersection of Dartmouth and Rockland Streets, Dartmouth, Massachusetts, is one of the oldest existing residences in the Town.
The house was in substantial disrepair in 2003, when Waterfront Historic Area League of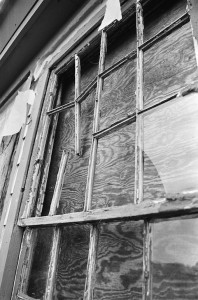 New Bedford, Inc. (WHALE) purchased the property from Akin family descendants with funds provided by the Town of Dartmouth Community Preservation Fund. WHALE thereafter began restoration of the property, using mostly moneys acquired by private fundraising, and put new shingles on the exterior siding and roof, to make it relatively watertight, as well as limited interior restoration work. WHALE then conveyed the property to the Town of Dartmouth acting through its Historical Commission on March 19, 2008. In May, 2008, the Historical Commission leased the property to DHPT until May 4, 2013, subject to renewal, and DHPT, utilizing principally funds acquired by a grant from the Community Preservation Fund, has done a second phase of work to complete the stabilization of the structure, repair the foundations, and make it secure and water-tight.
The property is subject to several preservation restrictions, which in substance require that the existing structure be maintained so as to preserve its architectural, archaeological and historical integrity.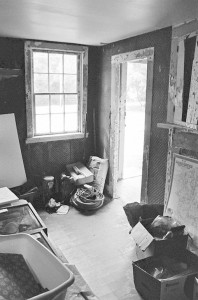 The next phase of work will involve further interior restoration and repairs. We are now at the stage when a more complete articulation of the uses to which the property will be adapted is necessary. DHPT fundamentally wants to restore the property so that it will be a representative example of eighteen-century architecture and construction with its history shared, i.e., for public education, use, and appreciation.
We believe that the structure should also be restored so that it is available for other public functions, which may include temporary exhibitions of historic and artistic pieces, meeting space for small groups, and seasonal use as a visitor's center.
All these functions require parking areas, ADA handicap access, and restroom facilities. Because the space within the Akin House is limited, we believe that we should consider the possibility of a second structure on the premises to have bathroom facilities, and examine whether such a structure would more efficiently and economically accommodate the meeting space function.
This 252-year-old rare historic asset must be open to the public in order to thrive and showcase its relevance in the 21st century.  Whether open all-year-round, on a seasonal basis, by appointment and/or on a fixed schedule, for tours, lectures, and special programs, its unique status as "a little house with a big story to tell" must be preserved on an equal footing to its well-crafted foundation and post and beam construction.
READ ABOUT THE MOST CURRENT AKIN RESTORATION PROJECTS HERE!